One of the facets of luxury watchmaking which takes it to the next level is the absolute attention to detail. This is perhaps most evident in the decorative processes, or the finishing, which is applied to each timepiece. Absolutely no detail is left unattended, with huge numbers of hours spent finishing components which will never even be seen by anybody other than a watchmaker completing a service of the timepiece.
If we break down a timepiece into four main components in the case, the bracelet, the dial, and the movement, there are a multitude of techniques which can be applied to each – more so in the dial and the movement, which being internal are inherently less susceptible to the everyday wear and tear of the case and bracelet. In this article, we will look at a variety of different decorative watch finishing techniques that are applied to luxury watches, how they are created, and understand more about the time and effort that goes into creating these works of art.
So, let's get started…
Anglage, chamfering or bevelling
Anglage, also referred to chamfering or bevelling, is a technique whereby the edges of particular components are filed to a 45° angle by hand, to replace a sharp, right-angled edge which would otherwise remain. The new face is filed such that it is an equal width across its entirety for a uniform and aesthetically pleasing look. This face is then polished to serve to accentuate the shape of the component – if the rest of the component is say, brushed, then the polished finish of the anglage provides a highlight and accentuates the alternative finishing surrounding it.
This if often applied to bigger components such as bridges or plates and can be incredibly difficult – especially on edges which are in the inside of a tight angle.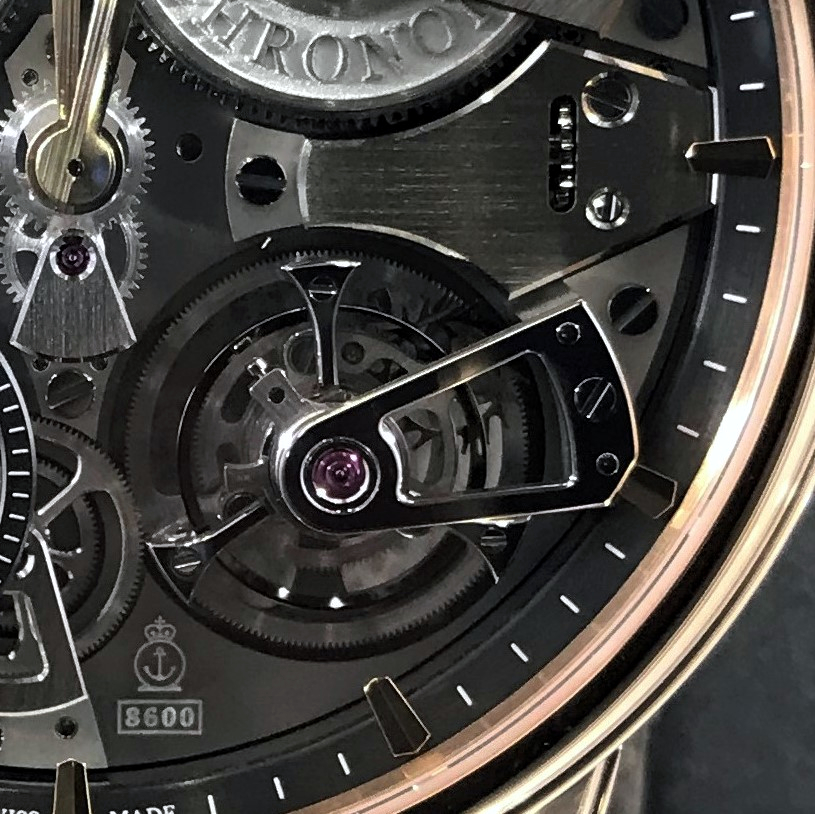 Mirror polish or Black polish
Mirror polishing is – as you might expect from the name – when a particular metallic component is polished to an extremely high finish. To achieve this finish, a perfectly flat surface with zero imperfections is required, causing light will reflect off of this surface in a single direction and create an apparent mirror finish. Depending on the lighting, this can result in the component appearing to be black, hence the name 'black polish'.
This polishing is again completed by hand, and uses several different grades of polishing material such that it is extremely time consuming – even a small component that would fit on a fingernail can take several hours to polish to the levels required.
Polishing is also used on the cases and metal bracelets for watches, albeit to a lesser extent than the internal components. You will often find both polished finishes on both, often accompanied with a brushed or sandblasted effect which serves to highlight each respective finish.
Grand Seiko offer cases with a Zaratsu polish, the objective of which is similar to black polish in that the aim is to remove all distortion for a mirror finish. It is however completed slightly differently by use of a machine as opposed by hand (which incidentally has no bearing on how complicated a finish it is to complete, with both taking many hours for highly skilled individuals).
Graining/Brushing
Graining or brushing is a type of watch finishing technique whereby the metal surface is 'scratched' or 'etched' delicately, either by machine or by hand, to achieve an effect of a pattern on the surface itself. It is the direct opposite of polishing finishes which remove all the imperfections, in that it directly applies imperfections in a very specific way. As above, this type of finishing can be applied to both internal and external surfaces, albeit external surfaces on the case of a watch tend to be brushed in a single direction. Some examples of graining or brushing finishes follow:
Geneva stripes, Côtes de Geneve or Geneva waves
A commonly found as a finish employed by a multitude of watch brands. A rotating abrasive tool is applied to the flat surface of various components (such as bridges, plates or even rotors). The visual effect can be either straight or curved, but the stripes created will always be perfectly equal.
For the most part, this finish is created by a machine which will pass the components underneath the abrasive element which will apply the finish, however there are also techniques where it is applied by hand. These of course are more time consuming and the end result is not quite as 'perfect' as that done by machine, but nonetheless beautiful to look at.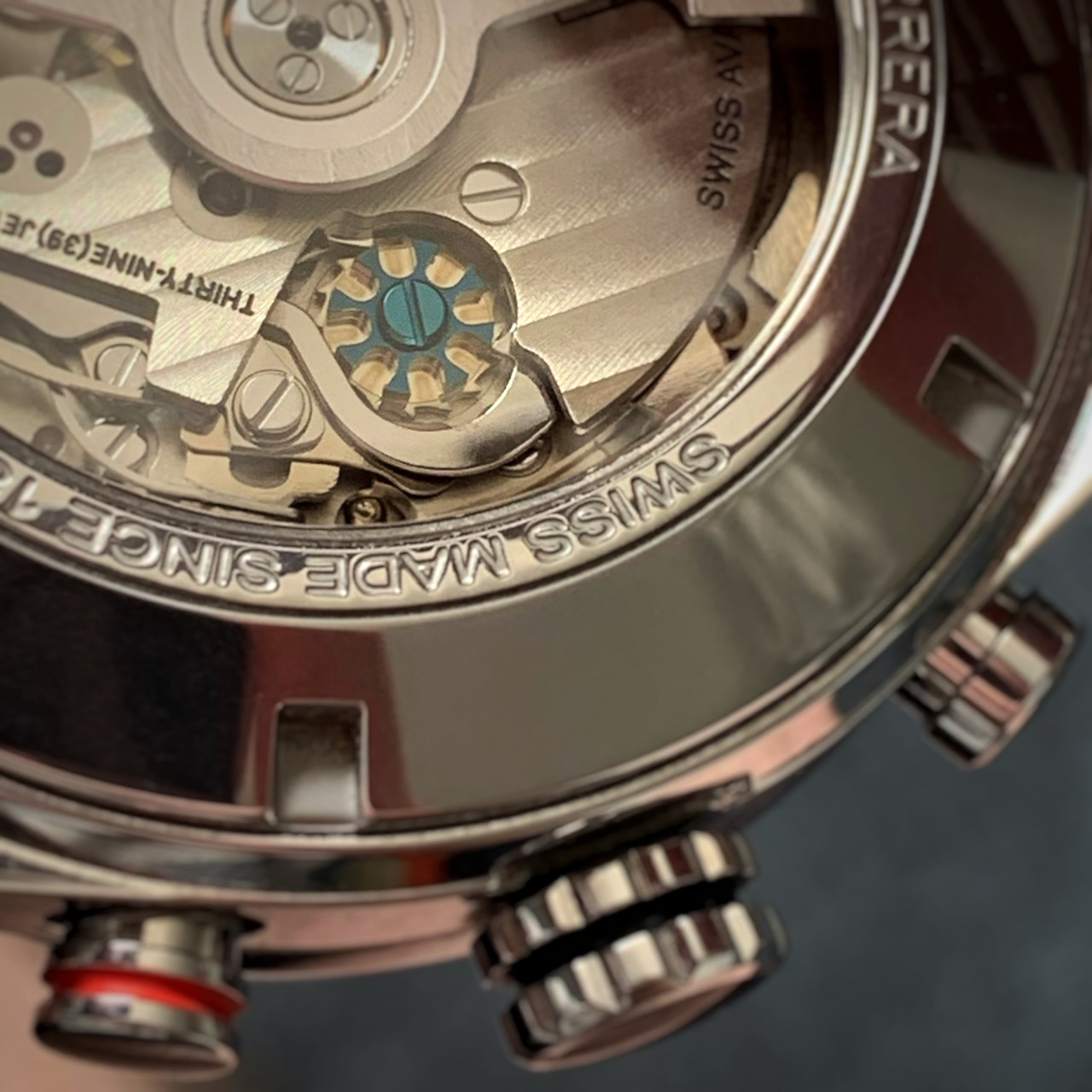 Perlage
Another of the most commonly found watch finishing techniques, whereby a small circular graining pattern is applied to surfaces such as mainplates, plates or bridges. This process requires the hand of a skilled watchmaker to apply the perlage patterns by hand using a tool which applies one 'circle' of graining at a time. The complexity comes in that not only must the pressure used to apply each circle be even to create the same effect, but the edge of each circle which is applied must touch the centre point of the one which came before it. The 'row' of circles must continue in a straight line, or stick to a cohesive to a design pattern, such that the final visual effect looks aesthetically pleasing as opposed to haphazard.
Having tried this myself I can assure you that it is a lot more difficult than you might reasonably expect!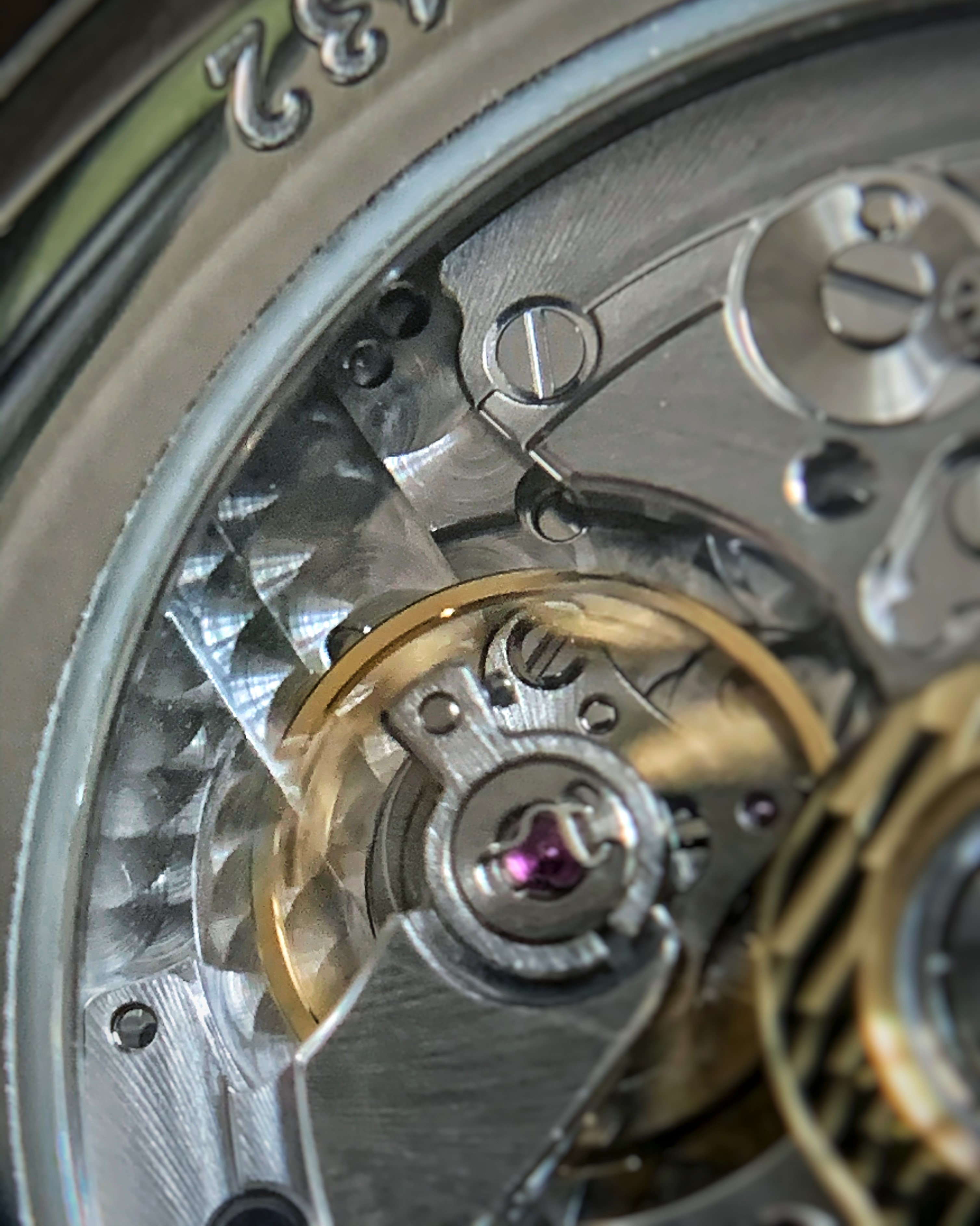 Guilloché and Engine turning
The visual effect of guilloché or engine turning is, in my opinion, nothing short of stunning. The effect entails creating intricate geometric designs or patterns (these can be straight lines or a circles) onto a surface, through the manual use of a lathe. Some of the finest examples of guilloché dials are found on Breguet watches – Abraham-Louis Breguet himself was an early adopter of this technique for use in watches, and this is continued by the brand bearing his name to this very day. It looks especially beautiful when combined with other watch finishing techniques.
Decoration using the guilloché technique requires the hand of a highly skilled watchmaker to create the finish, and any mistakes made in the pattern will entail having to start again from scratch. There are different types of guilloché including the following:
Clous de Paris
Clous de Paris is the most commonly used guilloché technique, with a continuous maze of intersecting lines forming hundreds of tiny square-based pyramids. It provides a relief which gives a sense of depth to the dial.
Tapisserie
This particular type of guilloché is most famously seen on the dials of the Audemars Piguet Royal Oak. Similar to the Clous de Paris, the pattern creates hundreds of squares on the dial, however these are flat squares (as opposed to little pyramid shapes), rising above a pattern that is etched into the recesses below. There are different sizes of tapisserie dials, depending on the sizes of the squares.
Sunburst
Sunburst guilloché is a design which radiates out from a centre point (often the centre of the dial where the hands are affixed) to create a stunning effect akin to, unsurprisingly given the name, the rays of the sun.
Flinqué
Finally, it is possible to coat any guilloché or engraving with a protective and translucent coating such as enamel. This finishing technique is known as flinqué.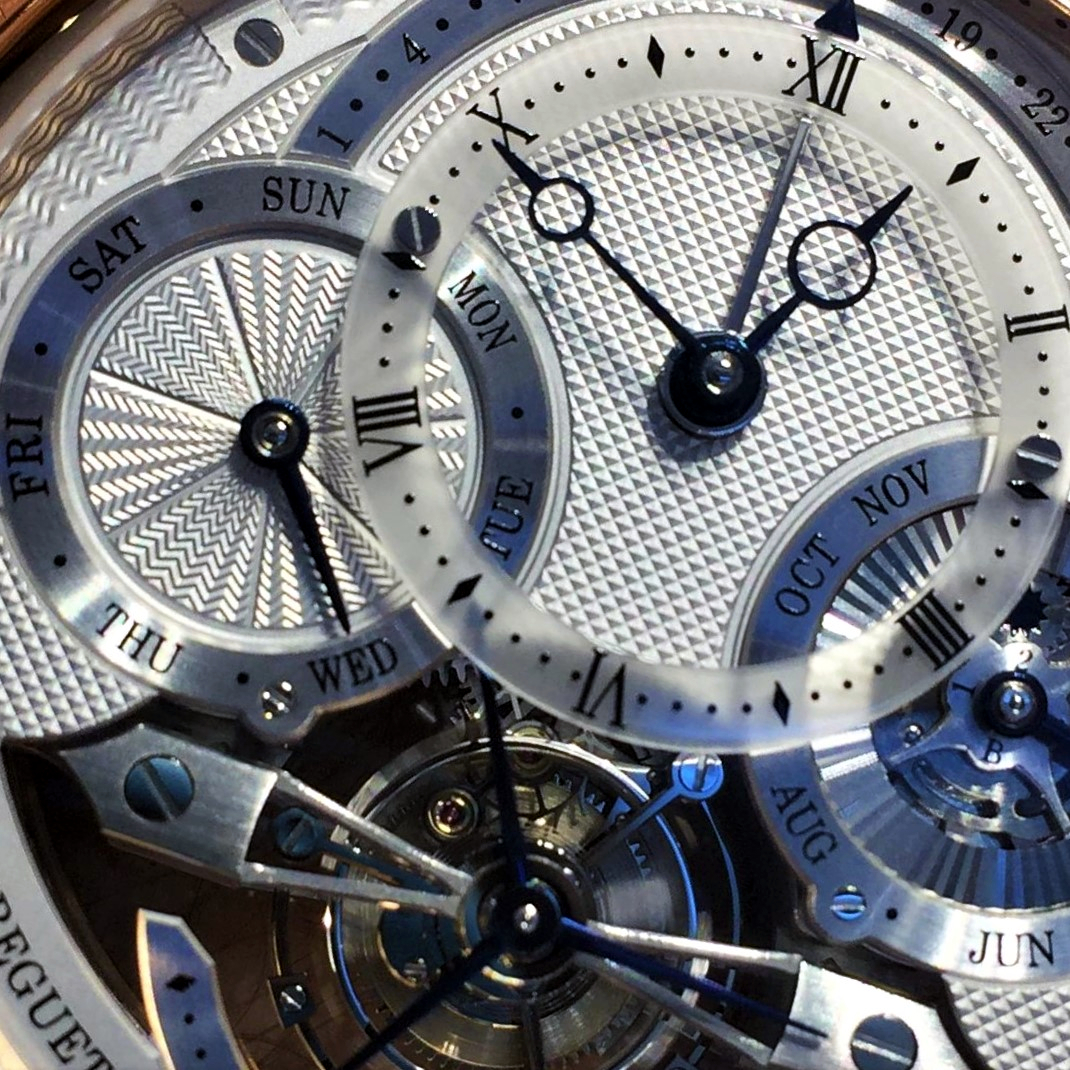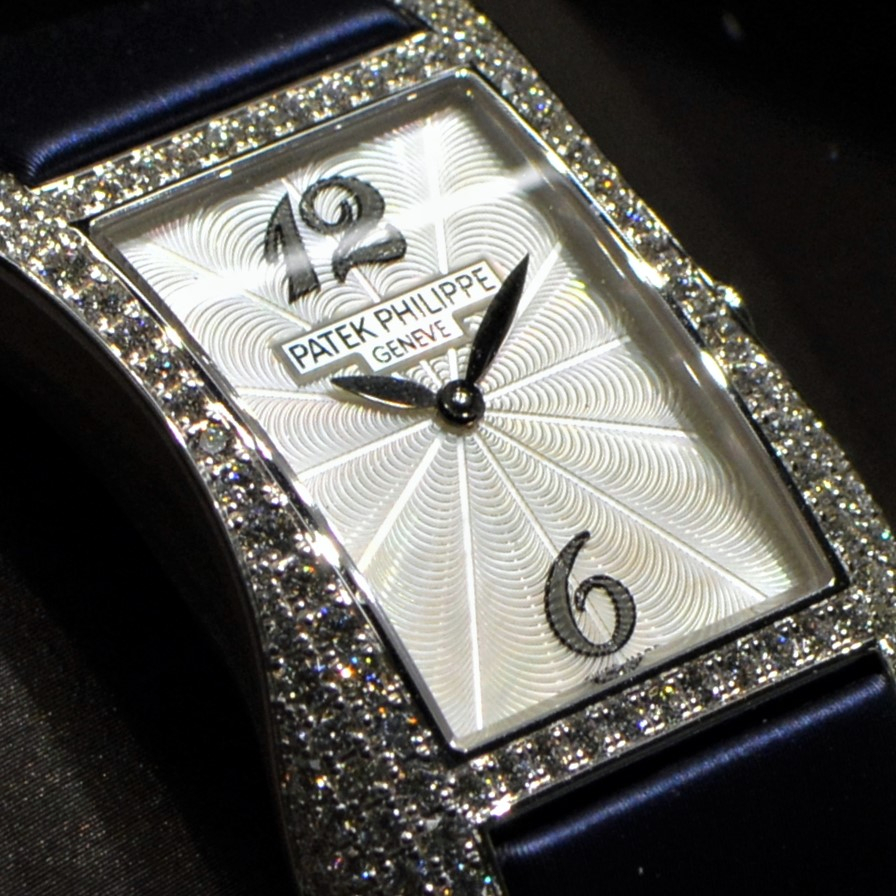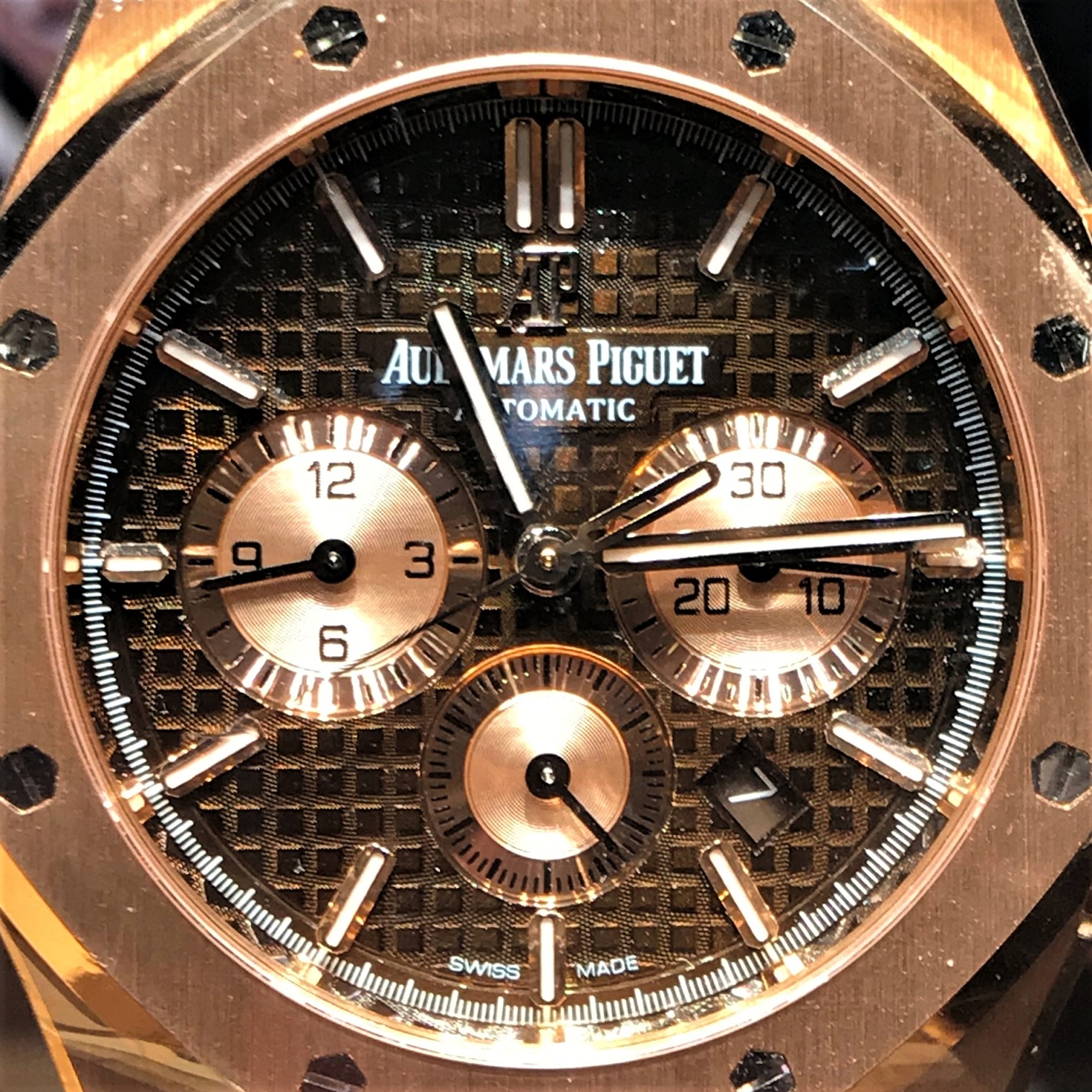 Engraving
As far as watch finishing techniques go, this is perhaps most commonly applied to a closed case-back watch as decoration. It is less common to find a movement or internal component with an engraving applied, however there are some phenomenal examples. My personal favourite is the reverse side of the Breguet Marine Équation Marchante 5887 – you can see if from about 2 minutes onwards in the video below:
Enamelling
Enamelling on watches is more common than you might initially think, with techniques of varying degrees of complexity available. Simply put, enamel is made from a transparent glass which is turned to different colours by use of different metal oxides. When heated to around 800°C, the enamel will melt and fuse with the base below. This base can be anything capable of withstanding the intense heat requires to melt the enamel itself – in watchmaking this tends to be a metallic base of a dial. We have previously written a guide specifically looking at different enamelling techniques which you can find here.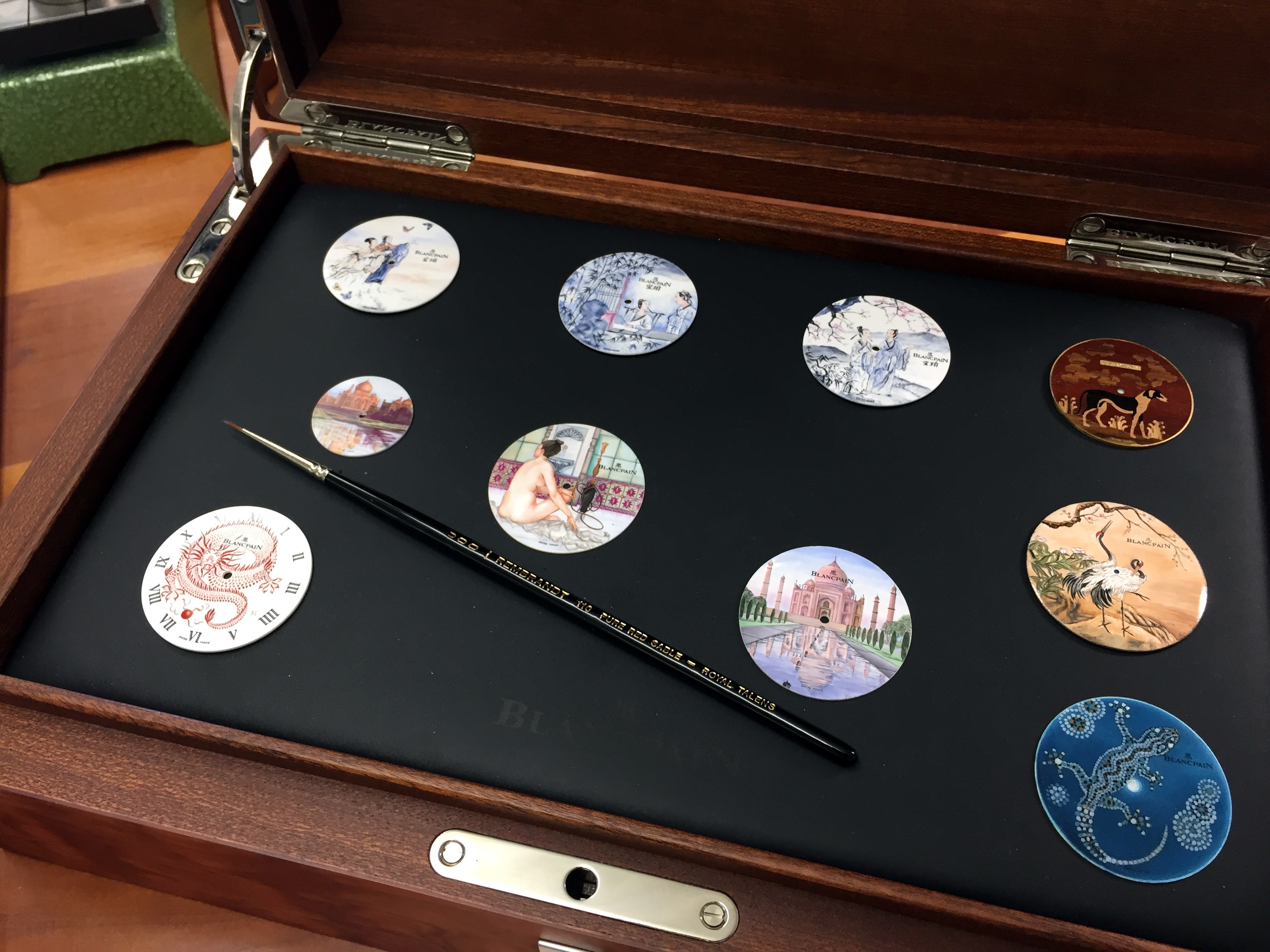 Screws and Sinks
In high-end watch finishing, no detail is left untouched, and this includes even the tiniest screws used to assemble the calibre. The screws themselves are often mirror or black polished by hand to ensure uniformity. As for the holes where the screws are placed, these are machined into plates and bridges before again being finished by hand with a degree of anglage or chamfering applied to the top of the hole, creating a countersink to allow the face of the screw to sit flush with the surface of the plates or bridge.
Blued
Finally, you may come across the terminology of something being blued – perhaps blued hands or blued screws, even a blued column wheel. This effect is achieved on components constructed from steel. By applying heat to take them to a specific temperature, the metal hardens, and the subsequent blue colour is in fact an oxide layer on the metal itself. Different temperatures will create different colours (and hardness), and to create the blue colour entails heating the component to a temperature of around 290°C for a darker blue. It is also possible to create colours such as a gold-yellow, purple, and lighter shades of blue.
There is a need for absolute precision in the heating process, as if the temperature is too low then the colour will not manifest, however if the temperature is too high, then the component will need to be restarted.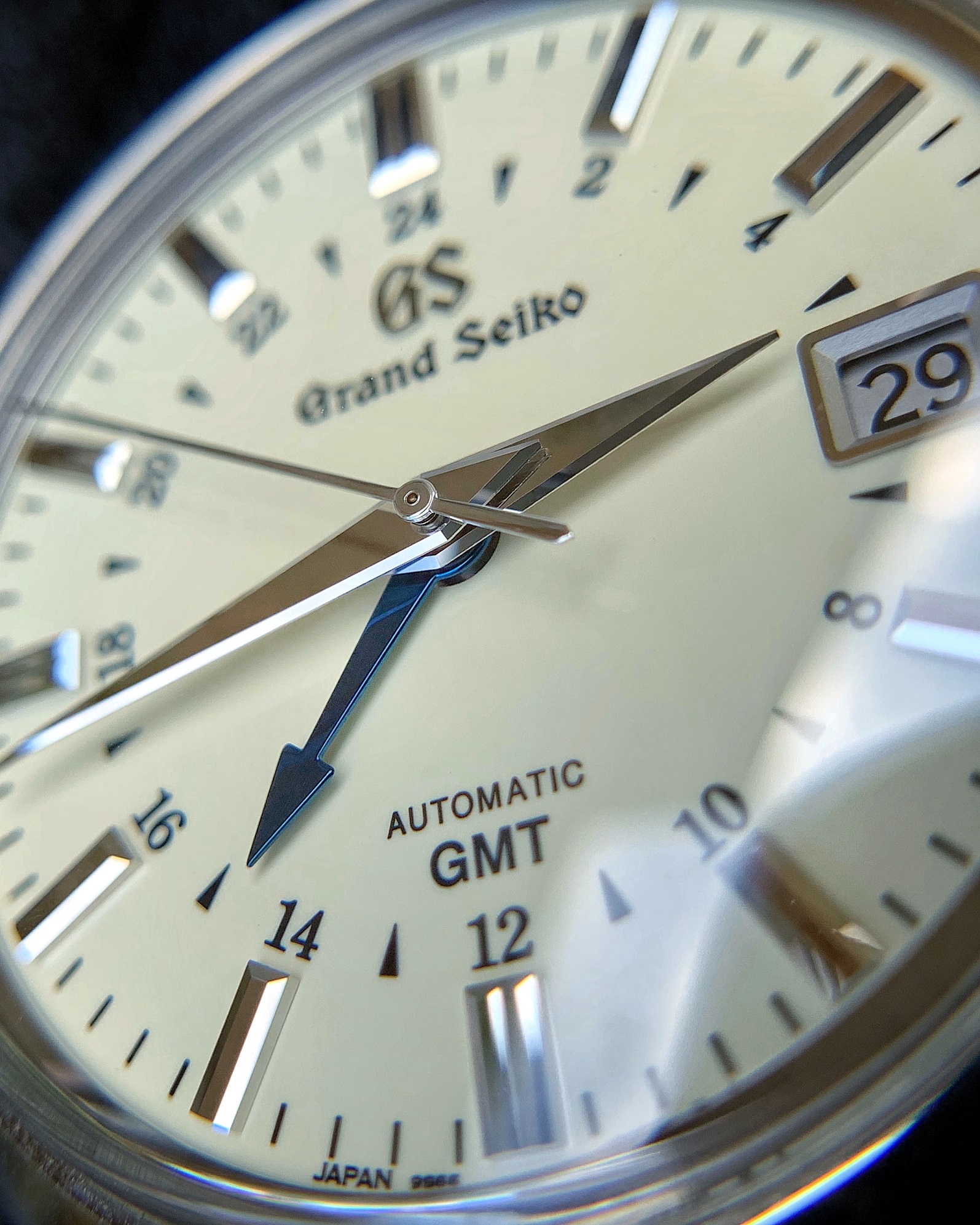 As you can see, there is a plethora of different types of watch finishing techniques that are used in luxury watchmaking, the majority of which require many years of patience and skill to master.
There is a even special award reserved for timepieces that are finished to the best possible level called the Geneva Seal, or the Poinçon de Genève, obtained by manufactures currently such as Vacheron Constantin and Roger Dubuis amongst others. It is an independent body which serves to assure any piece bearing its hallmark truly is finished to the highest of standards. You can read more about the Poinçon de Genève here.
Finally, an article about watch finishing techniques cannot really be considered complete without mention of A. Lange & Söhne. The manufacture produce some of the most exquisitely finished movements in the industry, and even assemble each timepiece twice – firstly to ensure that the mechanics of the timepiece are in order and it is adjusted to the highest degrees of accuracy, and then it is taken apart for each tiny component to be cleaned and then finished. Just take a look at this: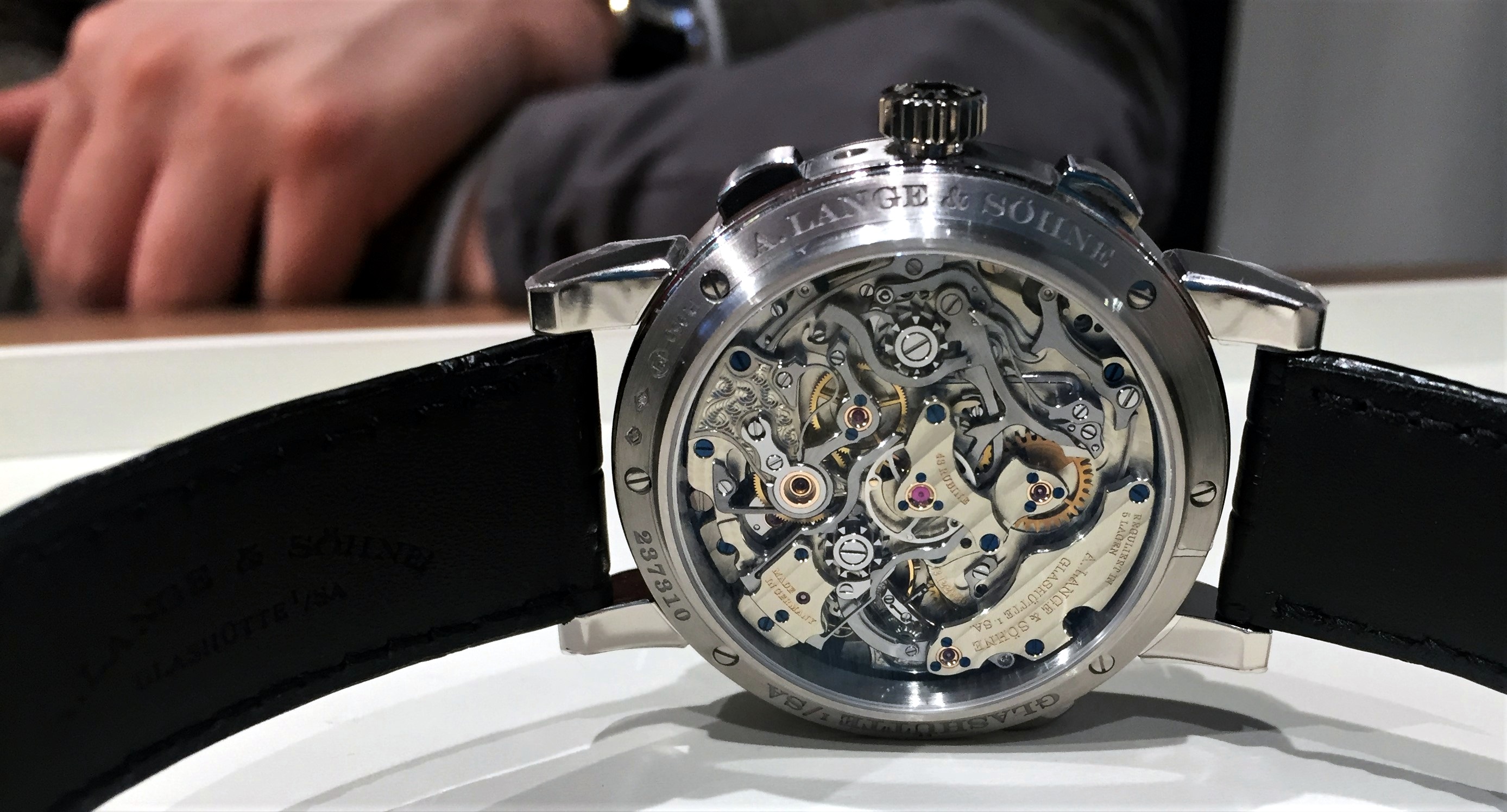 Hopefully this article has helped to explain a little about what these watch finishing techniques are and the stunning decorative results they create.
The macro photography in this article was taken using an iPhone and this clip-on lens available here (affiliate link).
If you have any questions, please get in touch via our Contact page, or via our Instagram.
You might also be interested in: